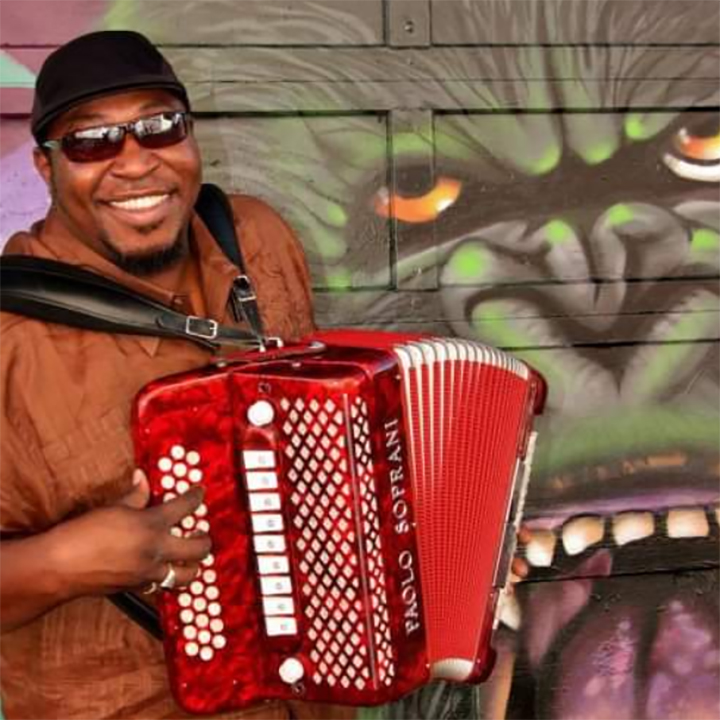 Dwight Carrier popularly known as, "The Black Cat" has become one of the most exciting Zydeco Accor-dionist of this era. He is deeply rooted in the "Carrier" family tradition, where music has always been a pas-sion and implemented into much of their families past time. He embraces both his family tradition as-well as his Cajun Creole Culture. Dwight has always had a unique style that infuses his zydeco, blues, country and R&B influences.
Growing up in the small town of Church Point, La in a time where rap music was gaining momentum, Dwight's friends would laugh when he and his brother Joseph chose not to take that route. Initially, Joseph played the accordion while Dwight played the drums. It was after many relentless hours of practicing with his brother that Dwight grew restless. He yearned to play the accordion. It was with much practice, passion and determination that Dwight not only learned to play the accordion but was he able to play it well. He and Joseph switched instruments and it Dwight Carrier & the Zydeco Rockers was created.
In 1988, at the age of 14, Dwight recorded his ‑R&B 45 LP entitled "My Baby Left Me", earning him local status, playing frequently on the zydeco circuit at trailrides and dance halls in and around the state of Lou-isiana. He realized that his friends were no longer laughing, but instead, were asking him to teach them to play.
In 1991, Dwight Carrier was asked to become a member of the Creole Zydeco Snap Band headed by Creole & Blues musician Warren Ceaser. He accepted the opportunity and became the groups' accordionist. Dwight traveled with the band extensively around the world and for several years making appearances at the New Orleans Jazz & Heritage Festival. On the 1995 CD entitled "The Crowd Pleaser", Dwight released two more recordings, "Zydeco Coteau (Going Down South)" and "Zydeco Shuffle".
After taking an extended absence from music, Dwight was able to work his way back into his music, play-ing with his uncle Zydeco Legend, Roy Carrier & the Night Rockers. He is has also had the privilege of playing with cousin Troy "Dikki Du" Carrier & the Zydeco Crew, Andre Thierry & Zydeco Magic, Hugh Robertson & Zydematics, Tony Trahan & Blue Krewe just to name a few while still being the front man for the Ro Doggs. Dwight "Black Cat" Carrier and The Ro'Doggs released their debut full length CD titled "It Ain't My Fault" in early spring of 2009.
Dwight is one of the few Zydeco musicians with the ability to travel to a city, pick up a band of local musi-cians and produce a sound equivalent to that of artist working together for years. The ability to do this, al-lows him the ­flexibility to perform in places that may otherwise, not be economically feasible and still able to share traditional zydeco along with treating people to a great time. Dwight is a party band leader and his shows have been rated high energy fun. "The Black Cat", is not the typical zydeco artist as, he draws from a wide variety of influences bringing it all home to the most exciting danceable night you'll ever experi-ence! He looks forward to playing that "Old Thyme Zydeco", with just an accordion and a rubboard.
Dwight has been able to share his musical talents all over the world including places such as; Italy, Sicily, Paris France, Central America and many parts of Canada. His influences include everyone from Clifton Chenier to James Brown with a little old time Zydeco and R&B for good measure. The "Black Cat" has recently returned from a nationwide tour with 2013 Grammy Nominated Artist, Andre Thierry. He has also performed with; "The Red Rocker" (Sammy Hagar), former bass/guitarist for James Brown "Robert Wat-son" and world class musician, Bobbie (Spider) Webb to name a few.